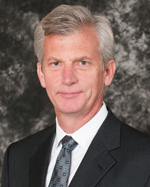 Paul H. Johnson
Group President and COO
Paul Johnson graduated from the University of Texas at El Paso with a bachelor's degree and received his MBA from Southern Methodist University. He began his career with Surgikos (Johnson & Johnson) and held various positions of increasing responsibility in operations from 1981 to 1985. After serving as general manager of the facility in San Simeon from 1986 to 1989, he joined Johnson & Johnson Medical from 1990 to 1994 and helped establish a contract manufacturing organization. He was also a key player in developing the business plan to enter the China market. Paul joined DPT in 1994 as director of logistics and was promoted to senior vice president of sales and marketing in 1996. He led the acquisition of the Lakewood, N.J., site and was promoted to general manager in 2001 and president and COO in 2004. After DPT was sold to Renaissance in June 2011, Paul assumed the additional responsibility for Confab and was named group president and COO.
Nathalie Brisson
President and General Manager
Nathalie Brisson graduated from the University of Montreal, Quebec, with a bachelor's degree in chemistry. She previously held many quality related positions in different pharmaceutical companies for more than 15 years. Her experience in quality assurance lies in the area of API manufacturing, drug product manufacturing, drug product packaging and analytical testing laboratories. In her career, she has held management positions in contract manufacturing companies where she was responsible for sales, QA, QC, validation and analytical testing. In 2006, she accepted the position as the president and general manager at Confab.
Micheline Deslauriers
Vice President, Operations
Micheline Deslauriers earned a master's degree in applied science, engineering, and a bachelor's degree in industrial engineering from Polytechnique Montreal. With more than 25 years of experience in the pharmaceutical and cosmetics manufacturing industry, her management experience includes: manufacturing and packaging operations, supply chain activities, production operations for OTC, vitamins, oral contraceptive and drug products, and building and utilities and safety and environment activities. She is a yellow belt for Lean Six Sigma and received professional coach certification from the International Coach Federation. At Confab, she manages manufacturing, packaging, planning, warehousing, maintenance, environment, health and safety and operational excellence.
Eric Verreault, CPA, CMA
Executive Director, Finance and IT
Eric Verreault graduated from the Université du Québec à Montréal, with a bachelor's degree in business administration with a major in management accounting. He is a certified public accountant and certified management accountant and has more than 20 years of experience in the accounting field at leading corporations such as Johnson & Johnson, IBM and Weston Bakeries. His management experience includes positions as senior analyst, director of financial planning and analysis across Canada as well as Quebec, and lead pricer. At Confab, he is responsible for the finance, purchasing and IT departments.
Simon Bechard, Ph.D.
Vice-President R&D and Technical Operations
Simon Bechard received a Bachelor of Pharmacy and a doctorate degree in pharmaceutical sciences from the Faculty of Pharmacy, University of Montreal. His career began in pharmaceutical R&D. He later founded Pharmalaser, a company developing process analytical technologies (PAT), where he was CEO until 2003. Since then, he has held various directorship positions in CMC development in both public and privately owned organizations. He has led several CMC regulatory submissions and approvals in Canada, the U.S. and Europe. His areas of expertise are drug substance and drug products synthesis/formulation development, scale-up, process validation, site transfer, GMP compliance and regulatory strategy as well as project management at CROs and CMOs. He is the author of more than 25 scientific publications and presentations, holds four patents and presents regularly at international conferences. At Confab, he is responsible for technology transfers, validation and formulation/R&D.
Guy St-François
Executive Director, Human Resources
Guy St-François graduated from Laval University, Quebec City, with a bachelor's degree in industrial relations. He has extensive experience in human resources management with national and international organizations in operational, divisional and corporate roles. For five years, he provided consulting services to fast-growing organizations undergoing transformational changes. Guy has demonstrated ability to impact organizational transformations, to coordinate the integration of different cultures and to accompany managers and their teams in the management of change. He has implemented best business practices, development strategies and personnel retention techniques during the challenges associated with sudden growth through mergers and acquisitions and launches of business units and in the midst of crisis management while mobilizing the workforce. At Confab, his role is to design and implement HR strategic plans that align with business goals while providing leadership development and coaching, delivering organizational analysis, recommending structure and administrative reforms and managing all aspects of employee relations.
Lucie Tremblay
Executive Director, Quality Operations
Lucie Tremblay obtained a Bachelor of Science at the University of Montreal. Her industrial career began with a cleaning agent manufacturer and shifted to the pharmaceutical industry. Throughout her career, she gained technical expertise and led several quality assurance groups. She received ASQ Auditor Certification and has experience with quality assurance management, regulatory inspections management and corrective and preventative action management. In her role at Confab, Lucie oversees all aspects of quality control and quality assurance.
Carolyn Gudz
Senior Director, Business Development and Customer Service
Carolyn Gudz graduated with a master's degree in business administration from the Richard Ivey School of Business at the University of Western Ontario. She has more than 20 years of extensive pharmaceutical experience and business-to-business development and customer care strategies. She is an accredited client associate facilitator with Miller Heiman for Strategic Selling® and Conceptual Selling® and has received certification in PIAV (professional values analyst), DISC (behaviors) and the TriMetrix System (personal talent skills inventory). At Confab, she implements strategies and tactics to enrich the client experience, strengthen existing partnerships and grow Confab's client base.